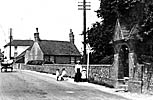 These photographs show the pump as it was in pre-First World War days, beside the main London to Eastbourne Road which then passed through the village. This was some 30 years after it was installed in 1880 by William Broderick Thomas, the brother of the local squire who lived at Ratton Manor and owned much of Willingdon. It's my assumption that he was the same William Broderick Thomas (1811-1898) who was a very well-respected landscape gardener, and employed at one stage by the future King Edward VII to re-landscape the gardens at Sandringham.
The initials WBT and 1880 can be seen on the gable end of the roof, picked out in sheep's vertebrae, and the side panels were completely decorated with sheep's knuckle bones within a flint border - although even by the time of these photos some had fallen out. Today the gable end bones have been completely lost, and as the knuckle bones continued to fall out of the side panels so they have been replaced with knapped flint. It is said that in the 18th century a lady lived in a cottage near the spring and made soup to sell, the bones from which she kept and used in the building of an earlier well house. When the 1880 pump house was built, sheep's bones were incorporated and probably came from the butcher's and its attached slaughterhouse about 100 yards up the road from the well.
The close-up photo of the pump, which I'm told wasn't much used after 1920, shows the original cap in place, complete with finial, and a long handle with a counterweight, which at some stage was sawn off.
(My thanks to Rosalind Hodge for this historical information, and to bookseller Maureen Copping, who specialises in Sussex books, for pointing me in her direction.)