Semi-Rotary Pump Restoration
Mike Woolford, in Oxfordshire, had had a semi-rotary pump for about 35 years and decided to restore it.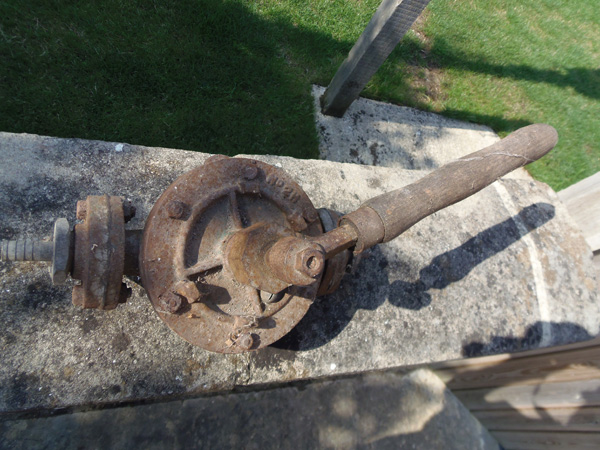 The pump is very finely machined, and it was difficult to prise apart the two halves of the body. This was eventually achieved by inserting in the mating faces two paint scrapers on opposite sides of the body of the pump, ably assisted by a rubber mallet! Internally it was in surprisingly good condition, although in need of a good clean to get rid of years of light corrosion.
The pump was sand-blasted on the outside as he felt that sand-blasting internally would damage the four clapper valves/valve seats (the clappers are fabricated from cast brass and the valve seats are lined with rubber). Internal clean-up was achieved with elbow grease and various grades of wet 'n' dry emery cloth, scrapers and finally cleaned-off with compressed air.

In order to prevent sand gaining access to the internal workings of the pump during sand-blasting the inlet and outlet were blanked-off with bitumen, as rubber, cork or wood are very rapidly eroded by sand.
The pump was painted with smooth Hammerite, and when it was finally re-assembled liberal use of WD 40 ensured free movement of the operating handle and phosphor bronze fulcrum. A new handle completed the job.